'For Kerch, this is immeasurable grief': Students share thoughts on Crimea attack
Comments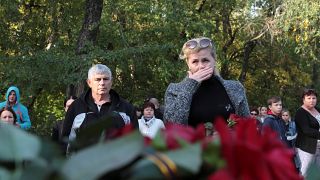 Crimea has been shaken by an attack on a college in Kerch on Wednesday, which left 20 people dead when an 18-year-old student shot fellow pupils before killing himself.
Euronews spoke to graduates and students of the Kerch Polytechnic College on social media to get their thoughts on the attack and messages to the victims.
This is what they said.
Marina, graduate of 2006:
I am deeply touched by this terrible event. It just does not fit in my head. I am crying, it hurts a lot. I feel sorry for the children, I grieve.
Anastasia, graduate of 2017
I knew the teachers who died... We all mourn with all those who graduated from this college. This is a terrible tragedy for our small and quiet city.
These were teachers who gave their best to their work. Of course, sometimes there were small conflicts between students and teachers, but this would never be a reason for revenge.
Our city and our college has lost real professionals.
Carolina, graduate 2013:
I knew Alexander Moisenko, he was a good person, he taught computer science to me. Good, kind and helpful, always helped, never refused.
Tamara, graduate of 2013:
A few people are good friends among the victims. I studied for 4 years in college, it was a happy student year, the teachers were all good, helped and supported me in everything.
For Kerch, this is immeasurable grief.
Quotes have been translated to English, and edited for length and clarity.