US President Trump: "I have no financial interests in Saudi Arabia"
Comments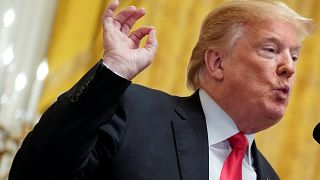 Copyright

REUTERS/Jonathan Ernst
US President Donald Trump has assured his twitter followers that he has "no financial interests in Saudi Arabia".
His announcement follows the crisis meeting between US Secretary of State Mike Pompeo and Saudi King Salman as pressure mounts on Saudi Arabia amid reports that missing Journalist Jamal Khashoggi was killed within his nation's consulate in Istanbul.
President Trump's personal business ties with Saudi Arabia are currently unknown although he said Thursday that he is wary of halting the arms deal with Saudi Arabia.
Both the New York Times and CNN reported Monday that Saudi Arabia is preparing to acknowledge that Khashoggi was killed in the consulate following a botched investigation, with Trump speculating that "rogue killers" may be responsible.
"The king firmly denied any knowledge of it," Trump said Monday. "It sounded to me like maybe these could have been rogue killers. I mean, who knows? We're going to try getting to the bottom of it very soon, but his was a flat denial."
Speaking to journalists and Pompeo this afternoon, Saudi Prince Mohammed said: "We are strong and old allies". "We face our challenges together — the past, the day of, tomorrow," he added.
Khashoggi, a Washington Post columnist and critic of the Saudi crown prince, entered the consulate two weeks ago to get marriage documents. Turkish officials allege that Khashoggi was killed within the consulate.