Stop treating Catalonia's separatists like criminals, exiled Puigdemont tells Euronews
Comments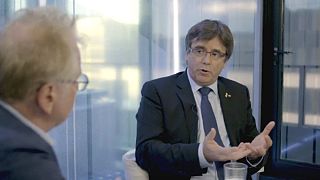 More than a year after the disputed October 1 referendum, former Catalan president Carles Puigdemont insists that the decision on whether Catalonia gains independence or not falls on the Catalan people.
In an interview with the Franco-German politician Daniel Cohn-Bendit on Euronews' current affairs programme, Uncut, Puigdemont said: "Catalans must be able to say yes or no and agree on how to manage the result."
When asked if independence was the solution to the Catalan crisis, the former leader said "of course not" but that for the last 40 years they've been trying everything to gain more autonomy yet haven't succeeded.
Puigdemont, who remains in exile in Belgium, added that if the Spanish government at the time had accepted the 2005/2006 referendum on Catalan autonomy then everything would be very different today.
The former leader insisted that the only way to know whether a majority of the Catalan people wanted independence from Spain was to have a referendum.
And what if the Spanish government refuses to hold a referendum, how long will this story drag on?
According to Puigdemont, there is still a majority of Catalans that support independence.
"A year after the referendum, the people are there. It is still true that there are still more than two million people who still support Catalonia's independence."
"In the end, if we are successful in summoning a referendum, we will have to agree on how to manage the results," he added.
Puigdemont stressed that in order to move things forward, the Spanish government must stop treating Catalan pro-independence politicians like "criminals".
And that if a solution is to be found, the ball is in the Spanish government's court:
"The conditions for having a real negotiation and a real dialogue must be for both on an equal footing"