Saudi Arabia "planning to admit" missing journalist Khashoggi was killed
Comments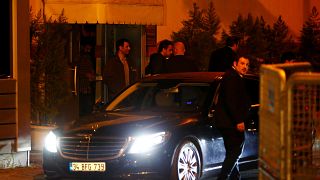 US President Donald Trump called Saudi King Salman to ask for an explanation into the disappearance of Jamal Khashoggi on Monday. And he told reporters the reply suggested that if the journalist was killed inside the Saudi consulate in Turkey, the hit men were "rogue killers".
And three sources have told NBC News that Saudi leaders are discussing a plan to admit that Khashoggi was killed, during an interrogation that went wrong. But ex-CIA director John Brennan poured cold water on the idea that orders had not come from above.
"It would be inconceivable that such an operation would be run by the Saudis without the knowledge of the day-to-day decision-maker of Saudi Arabia. That's Crown Prince Mohammed Bin Salman," he said.
Turkish investigators left the consulate in the early hours of Tuesday morning. The international community awaits their findings with interest.