Mrs. America co-founder denies allegations of making racially bias remarks
Comments
By Doha Madani with NBC News U.S. News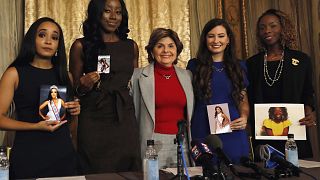 Copyright

Richard Drew AP

-
Four former Mrs. America contestants alleged on Monday that the pageant's co-founder and president made offensive, racist comments about black men and women during an event this past August in Las Vegas, Nevada.
Mrs. America President and CEO David Marmel allegedly made remarks about racial stereotypes and professional athletes who kneel during the national anthem while at a party prior to the televised competition, the women claimed.
The four women — Kimberly Phillips, Brandy Palacios, Jeri Ward, and Crissy Timpson — said that they could not stay silent on the matter and did not want other women to be subjected to those types of comments.
Phillips, the current Mrs. Deleware, claimed that she was sitting with Marnel at a party on August 21, 2018, when he made the comments.
Phillips, Palacios and Timpson were sitting with another unnamed black contestant when Marmel allegedly told them that "black women need to stop having babies with four baby daddies and all black men are in jail because they need to stop selling drugs and killing each other."
Marmel also asked whether the women knew about his work with the Black Achievement Awards, claiming he thought of creating the award shows when he saw Ebony magazine's Top 100 influential black people. He then said he knew the magazine owners and that they were "the most racist people he ever met because they all used the term n----r freely with each other."
The women also alleged that Marmel said it was fine that he used the term because the Ebony owners called him "brother."
"At this point, he put his arm next to mine and in order to compare skin color," Palacios, the current Mrs. Missouri, said.
Ward said she was not seated at the table with the other women, but was behind Marmel at another table and corroborated her fellow contestants' story.
Timpson, the Mrs. New Jersey, claimed she had heard Marmel make similar comments to her just days prior when he introduced himself to her. Marmel allegedly told Timpson "the asshole who kneels needs to stop disrespecting my flag" upon learning that Timpson's husband currently serves in the U.S. Air Force.
Attorney Gloria Allred, who is representing the four women, said there are currently no plans to file a claim against Marmel or the Mrs. America Organization. Allred said the former contestants ask that the organization create a plan of action, one that includes sensitivity training on racial bias and stereotyping.
Marmel told NBC News after the women's news conference that he did have a conversation with them about race in August but that the women were wrongly characterizing his statements — calling their statements "ugly" and "false." He also said he didn't understand the former contestants "crusade" and questioned whether this was "reverse racism."
He said he joined the women at the party in Las Vegas after seeing them sitting alone and felt concerned that they were separated from the group. Marmel said he did not want to seem as if he was favoring them and the women gave him "permission to speak off the record."
Marmel said he had spoken to the women about how he — as a young Californian who went south to play baseball — in the 1950s saw signs that said "No Jews" and that used derogatory term for black people. The women also recounted this story at their press conference. Marmel said that the experience had impacted him as a young Jewish man.
He allegedly told the women about "how that experience brought me closer to my African-American brothers and sisters because I was also discriminated against," Marmel said. "It was an experience I shared with African-American baseball players."
Marmel also said that his other comments were discussing things he had learned from conversations with staff at Ebony and Jet magazines, where he was told that African-American children being born out of wedlock and crime were big issues facing the black community.
"An exchange of perspective is a good thing there was nothing subjective about the conversation, it was review of the total experience of the life of David Marmel," he told NBC News.
He said those experiences pushed him to create the Black Achievement Awards. Marmel claimed that during his time as executive producer he hired black staff and highlighted the achievements of hundreds of African Americans.
He told NBC News that he had been invited once to dinner by the NCAAP with the family of Martin Luther King Jr. to be thanked for his work for the community.