Child 'vampire burial' unearthed in Italy
Comments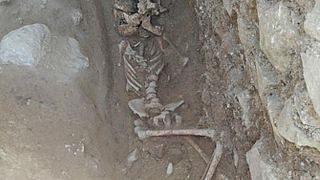 Copyright

David Pickel/Stanford University
Archaeologists have uncovered the remains of a 10-year-old child in Italy, whom they believe was given a "vampire burial" meant to keep the deceased from rising from the dead and infecting the living.
The remains, uncovered by archaeologists from two US universities - Arizona and Stanford University - in cooperation with local experts, were discovered over the summer in the commune of Lugnano in Teverina.
Among the remains was a skull with a rock intentionally inserted into its mouth, which researchers believe was the result of a funeral ritual designed to contain disease and the body itself.
"I've never seen anything like it. It's extremely eerie and weird," University of Arizona archaeologist David Soren said in a statement.
"Locally, they're calling it the 'Vampire of Lugnano,'" he added.
The remains were found at La Necropoli dei Bambini, or the Cemetery of the Babies, which dates back to the mid-fifth century when a deadly malaria outbreak swept the area.
The 10-year-old was found to have an abscessed tooth, a side effect of malaria, leading experts to believe that he or she also fell victim to the disease.
"This is a very unusual mortuary treatment that you see in various forms in different cultures, especially in the Roman world, that could indicate there was a fear that this person might come back from the dead and try to spread disease to the living," said bioarcheologist Jordan Wilson, who analysed the skeletal remains in Italy.
The finding was also significant because archaeologists previously believed that the cemetery was designated specifically for infants, toddlers and unborn foetuses.
The archaeologists now plan to return to Lugnano next summer to complete excavations of the cemetery.