2018 Cancun Judo Grand Prix: Thrilling men's heavyweight final on last day of competition in Mexico
Comments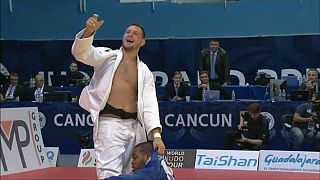 On the third and final day of the 2018 Cancun Judo Grand Prix in Mexico, our Man of the Day was Lukas Krpalek of the Czech Republic. The Rio Olympic Champion at -100kg was on fire on his way to the final, and had all eyes on him to deliver a gold medal winning performance in the +100kg category.
Andy Granda of Cuba met him in a thrilling men's heavyweight final. World number two and former world champion Krpalek was a score down and on the back foot, but he fought back to win the contest with two waza-ari scores. The first, a counter attack on Granda, forcing the Cuban to the tatami, then, finishing it with his favourite technique - sumi-gaeshi. The sacrifice technique proving successful for the number one seed once again, committing his bodyweight underneath his opponent, and rotating him precisely onto his back.
"Because he's not too heavy, he has the same kilograms as me. This is better for me. If I fight with opponents who are 150kg it's very strong, it's very hard, it's not easy. But this opponent I like it more. Today I fight, I think, very good and I am happy," said Lukas Krpalek in an interview after the contest.
Our Woman of the Day, two-time Grand Slam winner Rika Takayama of Japan, demonstrated traditional judo on her route to gold in the -78kg category with a tsuri-goshi straight into a hold down.
Takayama defeated double Olympic bronze medallist Mayra Aguiar of Brazil to win her second Grand Prix title, and was delighted to claim another medal for Japan - meaning 24 countries took medals here in Cancun.
World Silver medallist Ivan Felipe Silva Morales of Cuba took the Gold medal in the -90kg category after defeating Marc Odenthal of Germany in the final. The Cuban judoka countered the German who started with a uchi-mata and switched to a ko-soto but was off balance, and the Cuban took full advantage for a fantastic ippon in 56 seconds.
The Cuban judoka's medal was awarded by IJF Ambassador Antonio Castro.
In the men's -100kg final, Düsseldorf Grand Slam bronze medallist Niiaz Bilalov of Russia won all four of his contests by ippon to win his first Grand Prix title after defeating Austria's Laurin Boehler in the final.
Bilalov stormed to the gold medal, combining two techniques after 44 seconds of golden score with a ko-uchi-gake, which earned ippon against the Austrian.
World silver medallist Idalys Ortiz defeated double world silver medallist Maria Suelen Altheman of Brazil to win in the final of the +78kg category and another gold medal for Cuba.
Move of the Day
Our move of the day was delivered by Aaron Fara of Austria in the -100kg Bronze contest.
Fara scooped his Brazilian opponent, Leonardo Goncalves, up onto his hips and then planted him down for an emphatic ippon - delighting the crowd.