Cancun Judo Grand Prix 2018: Russia tops the table on Day 1 in Mexico as 16 countries win medals
Comments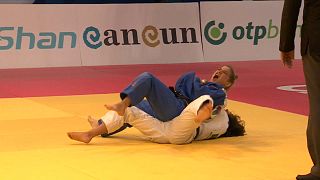 On day 1 of the Cancun Judo Grand Prix 2018 in Mexico our woman of the day was the incredible Paula Pareto. Having been an athlete role model at the Youth Olympic Games in Buenos Aires, the Olympic and world champion flew directly to Mexico. 
And the trip was worth it, as the Rio 2016 Olympic champion and 2018 world bronze medallist defeated Portugal's Catarina Costa in the final of the -48kg division. It was typical Pareto performance, full of tenacity and determination. And two waza ari scores ended the contest, and saw Pareto take a gold medal for Argentina.
"I am very happy because the Olympic qualifying period has just started, so these results have been great for me, and I had a great tournament here," Paula Pareto said in an interview. "It was such a nice honour to share being a role model in Buenos Aries, with Ilias Iliadis, who is a very nice and great champion. I was feeling very happy to share the Olympic values with all the young people, it made me immensely proud," she added.
Tornike Tsjakadoea of the Netherlands was our man of the day. The Dutch-Georgian judoka claimed his first ever medal on the IJF World Judo Tour, with a golden performance which saw him throw Frenchman Luka Mkheidze in spectacular fashion in the -60kg final. Having come from a waza ari behind, Tsjakadoea was overcome with emotion after the end result.
"He was fighting good against me. So I took a shido, and another shido and also a wazari so I had to take risks. So I took his belt and threw him with my hips, so, yeah! I never thought I would be a champion today, so it's a very great feeling, I still can't believe it," said Tornike Tsjakadoea in an interview.
Brazil's Rafaela Silva won an all Pan American -57kg final after the Olympic champion defeated Canada's Jessica Klimkait for gold.
In the men's under 66kg category, it was an all Russian final, where Aram Grigoryan defeated multiple world medallist Mikhail Puliaev with a brilliant turnover in ground work, to secure the hold down, and earn the ippon victory.
Spain's Ana Perez Box, the Hohhot Grand Prix bronze medallist, took on Poland's Agata Perenc, a four-time Grand Prix medallist, for -52kg glory, and the Spaniard managed to come out as champion with a waza ari score.
Moment of the day
Our moment of the day was from Ecuador's Lenin Preciado, who took his country's first ever IJF World Tour medal, an incredible achievement which meant that 16 different countries took medals on day 1 in Mexico. A true sign of Judo's incredible universality.