U.S. Justice official says lawyer vowed 'personal attacks' over AT&T deal
Comments
By Reuters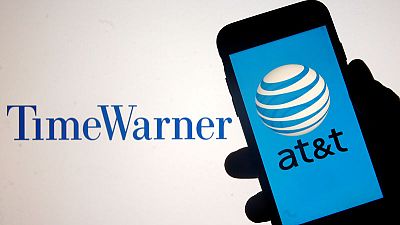 -
By David Shepardson
WASHINGTON (Reuters) – The U.S. Justice Department's top antitrust lawyer said Time Warner's general counsel threatened to "employ personal attacks" if the agency tried to block the company's $85.4 billion (64.54 billion pounds)merger with AT&T Inc <T.N>, according to a court filing made public on Thursday.
The merger, which was announced in October 2016 and closed on June 14, was opposed by President Donald Trump. The merged company includes CNN, the cable news station that is a frequent target of Trump's ire. The Justice Department has asked a federal appeals court to reverse a lower court's approval of the deal.
In the court filing, Assistant Attorney General Makan Delrahim denied that the government's lawsuit was motivated by animus towards CNN. He also said that Trump's opposition was not a factor.
According to the filing, Delrahim said the exchange with the Time Warner general counsel, Paul Cappuccio, occurred during a Nov. 8, 2017, meeting that included the company's chief executive, Jeffrey Bewkes, and Time Warner board member William Barr, a former U.S. attorney general.
Delrahim said that Cappuccio stood up, "wagged his finger at me, and said that if the Antitrust Division goes through with this, the case will be 'a sh*tshow like you've never seen,' and that it would be like 'Jimmy Hoffa and the firing of Jim Comey,'" referring to the missing former Teamsters president and the former FBI director fired by Trump.
"I interpreted Mr. Cappuccio's comments to mean that if we brought this enforcement action, defendants would employ personal attacks to denigrate the integrity of the Antitrust Division and myself," he added.
Delrahim's deputy, Andrew Finch, filed an affidavit with a nearly identical recollection.
Barr filed a declaration that the Justice Department officials' recollections were "incorrect" and that Cappuccio did not wag his finger at Delrahim or make reference to Hoffa or Comey.
He added: "No reasonable person could have misinterpreted Mr. Cappuccio's comments as a threat that the companies would personally attack Mr. Delrahim or anyone else in the event of litigation."
Barr said Cappuccio was suggesting instead that the government's challenge of the deal would cause a "public political and media frenzy" because of Trump's animus towards CNN.
Cappuccio could not immediately be reached, but AT&T said in a statement on Thursday that "our opinion of the government's lawsuit is no secret" and that the company appreciated "Barr stepping forward to provide his first-hand account of DOJ's interactions with us."
The Justice Department did not immediately respond to a request for comment.
The previously secret declarations were made in February when AT&T unsuccessfully sought court approval to see any White House communications that could have shed light on whether Trump pressured the Justice Department to block the Time Warner deal.
Last month, AT&T asked a federal appeals court to reject the Justice Department's challenge, saying the government had offered no basis for second-guessing key conclusions of a ruling upholding the transaction.
On Thursday, the Justice Department said the lower court had made an "illogical conclusion that the merger will
lead to no change in bargaining leverage" and erroneously concluded that consumers would not be harmed.
The core of the Justice Department's concern is that AT&T, which owns DirecTV, would use its ownership of Time Warner's content to make pay TV rivals pay more, thus raising their costs and forcing them to charge consumers more.
(Reporting by David Shepardson; Editing by Peter Cooney)