Hot off the press! Right wing newspaper offers pistol deal in Italy
Comments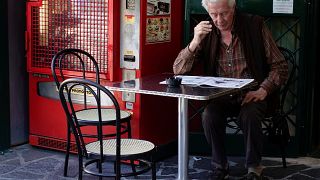 Italians will soon be able to purchase a pepper spray gun alongside their newspapers. A right-wing daily in Italy is promoting the use of "the non-lethal weapon", meaning you will be able to buy one at your local newsstand from October 20.
The Libero Quotidiano paper says "defending yourself is easy" with the pistol, which can be used in cases of robbery and aggression, the newspaper recommends.
However, as pepper spray can only legally be sprayed from a range of three metres, which is far less than other EU countries, and it comes in gun form, there could be issues in using it.
But the newspaper quoted the founder of the startup Mi Difendo.it, Gionata Lenzi, which distributes the pistol in Italy as saying, "(the) products are not considered weapons and therefore they can be purchased everywhere."
The company said 70% of the buyers are men who buy it for wives and daughters. But the target market is changing. Lenzi lists "women, the elderly, businessmen, sportsmen, campers and travellers," as well as "risky professionals such as shopkeepers, tobacconists, gas station workers, jewellers, taxi drivers and security guards."
Italy's interior minister Matteo Salvini has previously declared his support for the use of firearms in the use of self-defence and is trying to relax the laws.
The so-called GA 3 pepper gun is said to contain two shots of a liquid chilli extract, which if triggered will immediately cause coughing, spasms, nausea, tearing, disorientation and irritation, which lasts about an hour.
The pistol the newspaper is promoting will cost €43.50 plus the daily price (compared to €59 for the price of the gun without the deal).