EU working-life expectancy grows to 36 years
Comments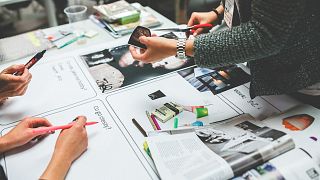 -
The expected working-life duration in the European Union has risen by three years since 2000,  reaching 36 years in 2017, according to the EU's official statistics agency.
The working-life indicator estimates how long a person who is currently 15 years old will be active in the labour market during his or her life.
In 2017, that figure for the whole of the EU rose by 0.3% compared to the previous year, according to Eurostat, to reach 35.9 years — three years more than in 2000.
But there are disparities across the region.
Highest working-life duration
The countries clocking the longest working-life expectancy can mostly be found in the north of Europe.
The top three EU countries are Sweden, the Netherlands and Norway, where a 15-year-old today can expect to respectively spend 41.7, 40.1 and 39.8 years of their lives working.
They are however eclipsed by non-EU countries Switzerland and Iceland, where the working-life duration is estimated at 42.5 years and 47.0 years respectively.
Lowest working-life duration
At the other end of the spectrum, the EU member states with the shortest working-life duration are Greece (32.7 years), Croatia (32.5 years), and Italy (31.6 years).
EU hopefuls Montenegro and the Former Yugoslav Republic of Macedonia came in lower at 31.4 years and 31.2 years respectively, but Turkey ranked lower with 29 years.
Men vs women
Working-life expectancy also varies depending on gender with men at 38 years and women at 33 years on average across the EU.
In Lithuania, the working-life duration is longer for women than it is for men, while in Latvia, the two genders have similar readings.
Meanwhile, with a 12-year difference, Malta had the largest gender gap.