'You are very dangerous', Orban tells Erdogan
Comments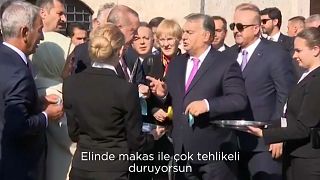 Hungary's Prime Minister and Turkey's President had an awkward exchange in front of reporters on Tuesday.
A clumsy exchange of scissors at a reopening ceremony in Budapest prompted Viktor Orban to tell his Turkish counterpart in English "you are very dangerous", as he pulled away a pair of scissors before Orban could snatch them.
Clutching his cutters tightly, Recep Tayyip Erdogan retorted, "for me", and gestured for Orban to take the other pair. Erdogan's wife, Emine, quickly put them right and corrected the mistake.
Erdogan was helping to inaugurate an Ottoman-era monument on the final day of a two-day state visit to Hungary when the gaffe was caught on film. His government, along with Turkish businessman Adnan Polat, had donated €7.7 million to restore the tomb of Gul Baba, an Ottoman dervish whose resting place became a Muslim pilgrimage site after his death in 1541.
Only Hungarian state media was invited to the gathering alongside some Turkish journalists.
The two countries share a warm relationship, with Orban having confirmed his support for Turkey as it pursues accession to the European Union.
"What we are doing now is insincere," he said Monday of EU-Turkish negotiations, which have been ongoing for decades.