Wife of missing Interpol president says she was threatened
Comments
By Doha Madani and Associated Press with NBC News World News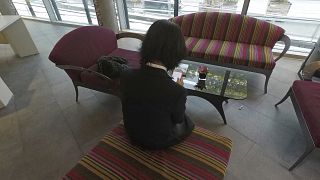 -
Copyright

John Leicester
In her first one-on-one interview sinceher husband's disappearance, the wife of missing Interpol president Meng Hongwei claims her life was threatened.
Grace Meng told the Associated Press she received a threatening phone call one week after she last had contact with her husband.
She said she had just put her sons to bed when a man called and said: "You listen, but you don't speak. We've come in two work teams, two work teams just for you."
The call prompted law enforcement in France, where Interpol is headquartered, to place the family under police protection, she said.
Meng Hongwei last had contact with his wife via text on September 25, sending her an image of a knife followed by a message that read, "Wait for my call."
He had also served as China's vice minister of public security while leading the International Criminal Police Organization, commonly known as Interpol.
News
Chinese President Xi Jinping has led a strictanti-corruption crackdown, jailing more than 1.5 million Communist Party officials in the last five years. China's Ministry of Public Security said on Monday that Meng Hongwei was being investigated for "willfulness and for bringing trouble upon himself," but did not give any information about his whereabouts.
Grace Meng said the man who called her spoke in Chinese and identified himself as someone who used to work for her husband, suggesting he might be working with the Chinese government.
She told the Associated Press that she thought speaking out would help other families, even if it may place her in "great danger."
"He has disappeared for so long and nobody has given me any information or told me where he has gone. This is very common now in China," Grace Meng said. "I feel like I have a responsibility to stand up. Only when you've been through this much pain can you understand that even more people have been suffering."