Pope Francis compares abortion to 'hiring a killer'
Comments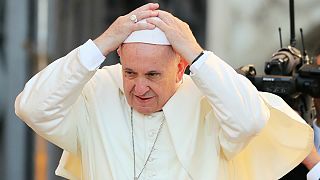 Pope Francis on Wednesday compared abortion to "hiring a killer"
"Is killing a human being correct for solving a problem? What do you think about it?" the pope asked a general audience at the Vatican.
"Is this right? Is "hiring" a killer the right thing to do to solve a problem? We can't do that, it isn't fair: killing a human being, as little as he might be, is not the right solution to solve a problem. [It's] like hiring a killer to solve a problem," he added.
In his address, the Argentinian pontiff was speaking about how parents shouldn't reject sick children.
"When during pregnancy parents discover that their child is affected by a disease, they need real closeness, real solidarity, to face reality overcoming understandable fears. Instead, they often receive hasty advice to terminate the pregnancy," he said.
"Violence and rejection of life arise from fear," he added.
Francis also cited wars, exploitation, and a "culture of wastefulness" in his speech.
"How can an act that suppresses innocent life be therapeutic, civil or even human?" he asked.
His comments departed from the pre-written text for his homily for the weekly audience on Saint Peter's Square.
This year, the pontiff opposed a bill to legalise abortion in Argentina.