William D. Nordhaus and Paul M. Romer win the Nobel Prize in Economics
Comments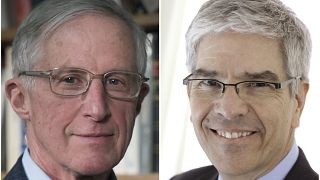 Americans William D. Nordhaus and Paul M. Romer have won the 2018 Nobel Prize in Economics for their work in "climate, innovation, and economic growth," said Secretary General of The Royal Swedish Academy of Sciences Göran K. Hansson.
Nordhaus is being recognised for his work on the damage caused by climate change while Romer has won the prize for his study on how economists can achieve a healthy rate of economic growth.
"Their findings have significantly broadened the scope of economic analysis by constructing models that explain how the market economy interacts with nature and knowledge," said the academy.
The Swedish Royal Academy of Sciences cited Nordhaus for showing that "the most efficient remedy for problems caused by greenhouse gases is a global scheme of universally imposed carbon taxes."
As for Romer, his works showed "economic forces govern the willingness of firms to produce new ideas and innovations."
The prize, which is officially called the Sveriges Riksbank Prize in Economic Sciences in Memory of Alfred Nobel, is financed by Royal Bank of Sweden and has been awarded for the 50th time, with 79 individuals winning it from 1969 to 2017.
Worth nine million Swedish crowns (€860,714. 87), the economics prize was established in 1968 and is not part of the original groups of five awards mentioned in Swedish industrialist Alfred Nobel's 1895 will.