Spain acquits doctor found guilty in 'stealing babies' case
Comments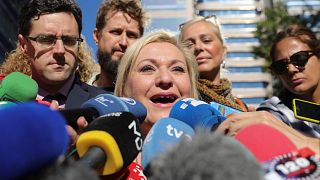 A Spanish doctor accused of abducting a newborn baby girl in 1969 and giving it to another woman was absolved of all charges by a Madrid court due to the statute of limitations on Monday in the first verdict of the "stolen-babies" case in Spain.
Eduardo Vela, 85, who is the former gynaecologist behind the suspected baby-stealing programme started during the regime of then-dictator Francisco Franco, was found guilty of abducting a baby, faking a birth certificate, and official documents. However, he cannot be punished because of the statutory limitation and because the plaintiff, Ines Madrigal, was no longer recognised as a kidnapped person once she became an adult, in 1987.
Madrigal filed a complaint in 2012.
The statute of limitations sets the maximum time in which courts can complete legal proceedings.
Prosecutors had asked for an 11-year jail sentence for all three crimes.
What has been the reaction from 'stolen babies'?
Jose Maria Garcia Gonzalez, one of the "stolen babies", told Euronews the verdict left him with a "bittersweet" taste.
"The bitter part is that this man has been absolved," he said, "and that he's been absolved due to the statute of limitations."
Garcia Gonzalez, 35, who was born in Madrid's San Ramon clinic where Vela was director at the time, found out he was adopted six years ago.
Read more | Franco's 'stolen babies' speak out: 'An apology is not enough'
But despite the verdict, the fact that it was acknowledged that Vela was found guilty of the crimes remains a small victory for Garcia Gonzalez.
"It's been acknowledged that he stole babies in Spain even if the statute of limitations prevents any consequences."
Madrigal, 39, had accused Vela of forging her 1969 birth certificate to show she was given to another woman falsely certified as her biological mother.
Madrigal's lawyer said they would appeal against the decision.
How did the 'stolen-babies' programme start?
Franco came to power in 1939, after defeating the Republican left-wing party in the Spanish civil war. Under his government, Franco tried to purge Spain from Marxist influence, which included the practice of taking babies away from left-wing families once they were born. Many of these newborns were given to couples who were part of the regime, while other babies were given to supporters of Franco's ideology.
In the 1950s, the system was extended to poor families or couples seen as "unfit" to raise a child, as it was at odds with the Catholic and nationalist ideology of the regime.
Ten years later, the business side of the programme gained momentum after those working the system realised how lucrative the scheme had become.
Vela was the first person to ever be prosecuted in the "stolen-babies" scandal.