Europe briefing: 7 stories to know about today
Comments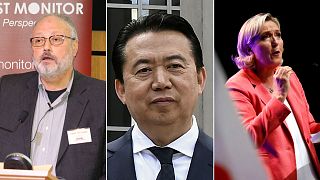 1) Meng Hongwei
Former Interpol chief Meng Hongwei is under investigation for suspected bribery, China's Ministry of Public Security said in a statement on its website on Monday.
"The investigation against Meng Hongwei's taking and giving bribes and suspected violations of law is very timely, absolutely correct and rather wise," the ministry said following an internal meeting.
2) Climate change warning
Limiting global warming's temperature rise to 1.5ºC would require "rapid, far-reaching and unprecedented changes in all aspects of society", the Intergovernmental Panel on Climate Change (IPCC) said in a damning new report.
The Nobel Prize-winning organisation said that the world was well off track in its goal of limiting global temperature rise to below 1.5ºC and heading for 2ºC or more.
As part of the Paris Agreement in 2015, its creators included the aim of strengthening the global response to the threat of climate change by "holding the increase in the global average temperature to well below 2ºC above pre-industrial levels and pursuing efforts to limit the temperature increase to 1.5ºC above pre-industrial levels".
3) Bulgarians mourn murdered journalist
Leading EU politicians and media activists urged Bulgaria on Monday to conduct a fast investigation into the murder of journalist Viktoria Marinova, as mourners planned vigils across the Balkan country.
Marinova's body was found in a park near the Danube river in her hometown of Ruse on Saturday. Prosecutors said she had been raped, then beaten and suffocated.
Bulgarian Interior Minister Mladen Marinov, who travelled to Ruse to oversee the inquiry on Monday, has said there was no evidence so far to suggest a link to Marinova's work as a journalist.
4) 'Stolen-babies' doctor cleared of charges
A Spanish court said on Monday a doctor accused of stealing and selling a baby during the dictatorship is guilty of all charges but cleared him due to the statute of limitations, which imposes deadlines on courts to complete legal proceedings.
The Madrid court said the 85-year-old Spanish gynaecologist Eduardo Vela was responsible for the crimes of the abduction of a child, faking a birth and falsifying official documents but was absolved after the baby reached adulthood in 1987.
The most serious crime of abduction, brought against Vela in April 2012, carried a limitation of 10 years.
5) Erdogan on Saudi journalist's disappearance
Turkey's president Tayyip Erdogan said he will be keeping a close eye on the case of Saudi journalist Jamal Khashoggi, who vanished after visiting the consulate in Istanbul last week.
Turkish officials said they have "concrete information" that Khashoggi was murdered inside the consulate six days ago and his body was clandestinely moved out. Erdogan said on Sunday that he will be following the case closely and is hoping for a positive outcome, adding how authorities will be monitoring all camera records and airport transits.
Yasin Aktay, an advisor to Erdogan, told Reuters on Sunday that Turkish authorities believed a group of 15 Saudi nationals were "most certainly involved" in the matter.
6) Nobel Prize for Economics winners announced
Americans William Nordhaus and Paul Romer won the 2018 Nobel Economics Prize for work in integrating climate change and technological innovation into economic analysis, the Royal Swedish Academy of Sciences said on Monday.
Nordhaus, of Yale University, was the first person to create a quantitative model that described the interplay between the economy and the climate, the academy said.
Romer, of New York University's Stern School of Business, has shown how economic forces govern the willingness of firms to produce new ideas and innovations, laying the foundations for a new model for development, known as endogenous growth theory.
"Their findings have significantly broadened the scope of economic analysis by constructing models that explain how the market economy interacts with nature and knowledge," the academy said in a statement.
7) Far-right candidate wins first round in Brazil
Right-wing Congressman Jair Bolsonaro took a commanding lead in Brazil's presidential election on Sunday, but the race headed for a second round of voting between him and leftist former Sao Paulo Mayor Fernando Haddad, according to exit polls and partial results.
With 92% of votes counted, Bolsonaro received 47% of valid ballots, far ahead of Haddad's 28% but short of the outright majority needed to avoid an October 28 runoff.
Here's how events unfolded: