Electric cars feature strongly at Paris Motor Show
Comments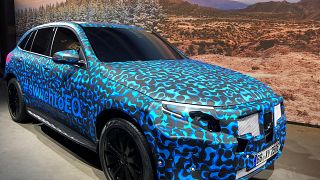 Electric models of leading car brands take the spotlight at the Paris Motor Show this year. Euronews science and technology correspondent Denis Loctier reports from the world's busiest automotive event.
Denis Loctier, Euronews says, "Some of the most significant innovations at this Paris Motor Show are hiding under the hood of the new electric vehicles that on the surface may look very much like their petrol-powered counterparts."
The conventional form-factor of the new EQC SUV appeals to Mercedes-Benz' core customer: as the industry pivots to electric drive, the German manufacturer is planning to release a family of electric models in coming years.
Its direct competitors include Audi: the e-tron SUV with an expected autonomy of 400 kilometres also made its public debut in Paris.
Tightening environmental regulations in many countries including France make zero-emission electric cars increasingly attractive.
Alexandre Chazel, Head of the exhibition stand (Chef de stand), Groupe Renault says, "The French ask themselves: will I be able to drive my car tomorrow, and if I'll need to change it, then what should I choose? So people are interested in how they charge, what's their autonomy, their price, how to buy an electric car — plenty of questions!"
Within a more affordable range of newcomers, Tesla's minimalistic Model 3 had its European premiere in Paris — set against luxurious retro-futuristic car concepts from Mercedes and Peugeot, as well as extravagant design ideas for autonomous cars of tomorrow.