Bosnia poll highlights country's divisions
Comments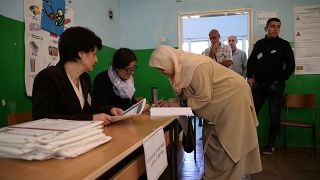 Bosnia's delicate balance of power is being put to the test today in presidential and parliamentary elections.
The peace deal that ended the country's war in 1995 shares power between Bosnia's Serb, Croat and Muslim communities, but it's always been an uneasy arrangement and within each group nationalist parties look set to dominate.
In the contest for the tripartite presidency, Bosnian Serb leader Milorad Dodik is campaigning on a ticket calling for the Serb Republic to withdraw from Bosnia and join Serbia.
In the Croat constituency, Dragan Covic wants a carve up of the Bosniak-Croat Federation into two separate entities.
Sefik Dzaferovic is looking to succeed Bakir Izetbegovic as President of the Bosnian muslim community though his Bosniak Democratic Action Party faces allegations of corruption.
Many Bosnians though have voted with their feet. Around 170,000 educated people have left the country over the past five years, damaging an already weak economy.