Thousands in France call for migrant rescue ship to be saved
Comments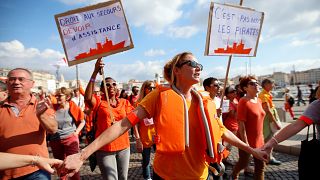 Thousands of people across France have been protesting for a migrant rescue ship to find a new flag.
Organised by Marseille-based NGO SOS Mediterranee, activists donning orange clothes - the Aquarius campaign colour – gathered in 57 cities across the country on Saturday with protest banners and signs.
The Aquarius rescue vessel was stripped of its Panamanian flag on September 22 following pressure from the Italian authorities.
Italy has blocked the boat from docking at its ports.
The ship was previously registered with Gibraltar for six months until August, when again its flag was revoked, forcing it to dock in Marseille for 19 days.
Chartered by by SOS Mediterranee and Doctors Without Borders (MSF), it has picked up hundreds of migrants in the Mediterranean, one of the deadliest sea crossings in the world.
But without a flag, it cannot sail or conduct rescue missions in the area.
"This announcement condemns hundreds of men, women and children who are desperate to reach safety to a watery grave, and deals a major blow to the life-saving humanitarian mission of the Aquarius, the only remaining non-governmental search and rescue vessel in the Central Mediterranean," SOS Mediterranee and MSF said in a statement on September 23 after it's flag was pulled.