Banksy painting 'self-destructs' in artist's prank at auction
Comments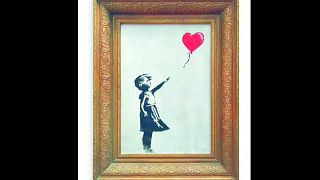 Banksy's iconic painting 'Girl with Balloon' was auctioned for just over £1 million (just over €1.1 million) at Sotheby's in London on Friday but immediately after the hammer fell, part of the painting shredded itself to ribbons.
The Financial Times reported that a contraption to destroy the work (which was voted the UK's favourite painting in a Samsung poll of 2017) was hidden in the frame. "It was shredded by a mechanism apparently hidden within the base of the frame, with most of the work emerging from the bottom in strips".
One theory is the artist triggered the device from inside the room. The Art Newspaper reported that a man dressed in black, wearing sunglasses and a hat was seen "scuffling with security guards near the entrance to Sotheby's shortly after the incident".
"We've just been Banksy'ed", Alex Branczik, senior director at Sotheby's told the publication.
Banksy is renowned for his provocative and satirical street art, which is sometimes politically charged. As he keeps his identity hidden, there is much mystery surrounding the artist.
Branczik said, "he is arguably the greatest British street artist, and tonight we saw a little piece of Banksy genius".
He added that he was "not in on the ruse", although it is not clear whether other members of staff were.
According to the Financial Times, the sale of an artwork that is damaged before it leaves an auction house is usually cancelled.
But Branczik said: "You could argue that the work is now more valuable".