Nobel Peace Prize: Important Recognition
Comments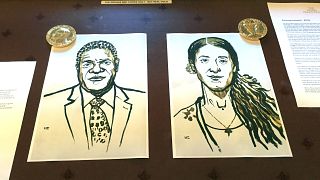 A standing ovation for Congolese Nobel Peace Prize-winner Denis Mukwege who treats war rape victims in the Democratic Republic of Congo.
Mukwege dedicated his award to all women affected by rape and sexual violence.
At his Panzi hospital in the eastern Congolese city of Bukavu, Mukwege says the prize was an important recognition of many women's trauma.
Denis Mukege says, "When you start counting the numbers, the millions of deaths and hundreds of thousands of women raped, then they can no longer be ignored. We cannot continue to simply count numbers, we have to start a process that will lead to the truth coming out and justice being done. The world can today draw a red line and say in armed conflicts women should never be used as a battleground and if anyone breaks that rule they should be isolated from society".
Nadia Murad, a Yazidi rights activist and survivor of sexual slavery by so called Islamic State, also won the prestigious award. Nadia was 21 in 2014 when militants took her from Northern Iraq and she was repeatedly sold for sex as part of Islamic State's slave trade before escaping and becoming an advocate for the rights of her community around the world.
Nadia Murad says, "My dream is for the small communities like Yazidis and Christians — the minorities in Iraq Syria and in the region —be protected and not disappear. ISIL's goal is to eradicate those few small communities. My objective is to prevent that from happening, and to keep human beings alive whatever their colour, their religion, or their nationality. People have to respect them as they are".