Modern Bedouins show another side to El Gouna luxury resort
Comments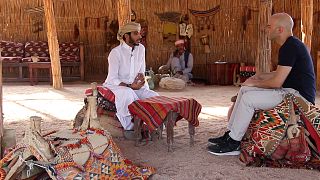 Dotted with five-star hotels and lush golf courses, the luxury resort of El Gouna was established along Egypt's northern Red Sea coast around 1989.
By contrast, just seven kilometres inland - in the mountain range of the Sahara Desert - traditional nomadic Arab tribes still live and farm the land.
One resident is thirty-two-year-old Ahmed Al Ababdeh, a proud Bedouin from the Ababdeh tribe, a community which originates from Saudi Arabia.
The El Gouna oasis is home to approximately 90 Bedouins from the Ababdeh tribe, according to Ahmed, with generations of children and families having made the challenging environment their base for more than 40 years.
Being part of a modern tribe means adapting to the ever-changing surroundings, says Ahmed, which includes using technology and working with people from the nearby town.
"We exchanged water for electricity and there's a beneficial exchange between us," he says, "We rely on it about 20 percent of the time."
Ahmed's 97-year-old grandfather, who settled in El Gouna in the late 1970s, used to live in a modest hut made of palm tree leaves. He fondly remembers the lessons that growing up in the desert taught him.
"I didn't go to school," says Ahmed's grandfather, "Nature taught us how to grow (crops), and work."
He has passed on his wisdom to Ahmed - the eldest of his 116 grandchildren. In turn, Ahmed has used his grandfather's experience to co-found the El Gouna Mountain Goats, a hiking group for tourists which shows the more historical and traditional side of El Gouna - a place that he believes is unmatched by any luxury hotel.
"At most, a hotel is five stars and I prefer to go to the mountains under a million stars," says Ahmed, "So, should I pick five stars or millions of stars? I prefer to stay in the desert."