Primera Air's sudden shutdown leaves thousands of travellers stranded at airports
Comments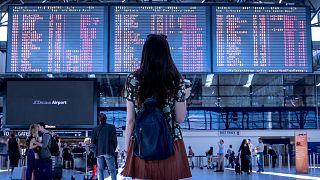 -
Several thousand travellers have been left stranded after budget airline Primera Air announced they would be ceasing operations and filing for bankruptcy.
The Icelandic airliner, based in Copenhagen and operating since 2003, shared a farewell note to their customers on their website Sunday night informing them that flights would be suspended as of today and to check for updates online in the upcoming days. Moreover, they advised clients they would not be able to reach the company by phone or e-mail.
Airport chaos
Angry passengers, who claim they were not given any notice about their flights being cancelled, took to Twitter to vent their frustration over the sudden announcement. Some passengers, who were tweeting from the boarding gate, said they were notified just before their flights.
A Primera Air cabin crew worker, who was also stranded, pleaded for help from another competing airliner, British Airways. She went on to claim that she was still awaiting her September salary.
Euronews' The Cube reporter, Cindy Pom, who was slated to fly to her hometown of Toronto next week said the airliner didn't send any notification about the cancelled flights and she discovered the news through a friend.
"Primera never reached out to me personally in an e-mail or any other way to notify me of what happened. I did some digging and saw that they tweeted a link to their statement ... I guess there's always a risk when flying with a low budget airline," said Pom who purchased her Paris to Toronto flight ticket last month for less than 350 euros. Pom said she was looking forward to seeing her father and brother who she hasn't seen in almost a year and is currently finding alternate travel routes home. However, the money she spent on the Primera ticket is gone.
Primera routes
The airline announced last month that it planned to launch routes from Madrid to New York, Boston and Toronto next year at an introductory price of 149 euros ($172) each way.
It also announced in September plans for direct flights from Frankfurt to New York, Boston, Toronto and Montreal from next year.
London's Stansted Airport, which has been trying to promote transatlantic routes, urged Primera passengers not to travel to the airport.
The collapse comes exactly a year after Britain's Monarch Airlines went under after falling victim to intense competition for flights and a weaker pound.
Primera was forced to cancel flights earlier this year, citing delays in receiving aircraft from Airbus, but has faced growing complaints about poor service and late refunds.
Its collapse will be a blow to plane manufacturers Airbus and Boeing, which had both used the airline as a showcase for new strategies designed to use data analytics to help airlines run smoothly and expand their own high-margin services revenue.