European Commission 'will not hesitate' to take Romania to court, warns vice president
Comments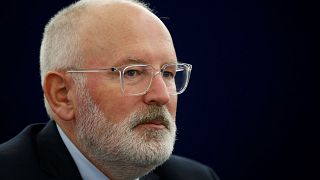 Copyright

REUTERS/Vincent Kessler
Romania still has time to alter its position on legislation changes that threaten the fight against corruption. However, the country will face harsh consequences if it fails to take into consideration recommendations made by the European Commission. This was the message from EC Vice President Frans Timmermans.
He made the statement in front of MEPs at a late-night hearing in the European Parliament Human Rights and Civil Liberties (LIBE) committee on Monday.
Timmermans said the Commission would "continue the dialogue," but added, "if the rules agreed at the European level are violated, the Commission will not hesitate to take the consequences and, where appropriate, take Romania to court."
Since it joined the European Union in 2007, Romania's justice system has been under scrutiny by the Commission.
Timmermans said a 2018 report that is scheduled to be issued in November won't show the system in a positive light as "the situation has deteriorated."
"Romania has made progress in the past, sometimes even spectacular progress, but it's moving back in a way that would be damaging not only for Romanian democracy but for the place Romania has built as an EU member state in recent years," he said.
He reiterated that the Romanian government's attempts to modify Justice Laws raised serious concerns internally and internationally, concerns that are shared by the European Commission, he added.
Timmermans' comments came two days before a European Parliament plenary session on October 3 where the latest judicial reforms in Romania are scheduled for debate.
Prime Minister Viorica Dancila has been invited to the debate and expected to respond to questions from MEPs.
Moves by the ruling Social Democrat Party after it won legislative elections in December 2016 to change legislation concerning the judicial system sparked multiple protests in Bucharest, with demonstrations in August turning violent. Hundreds were injured.
The party pushed to reduce the independence of the prosecutors and also to modify the Criminal Codes, removing some corruption offences.
This article has been edited to show Romania joined the European Union in 2007.