Iran launches missiles at Syria, but message is aimed at U.S., Israel, Saudi Arabia
Comments
By Ali Arouzi and F. Brinley Bruton and Reuters and Associated Press with NBC News World News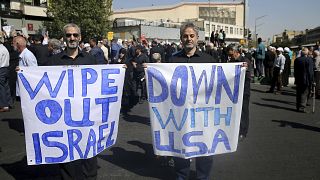 Copyright

Ebrahim Noroozi

-
TEHRAN, Iran— When Iran launched ballistic missiles into Syria Monday, its message was aimed more at the Islamic republic's powerful foes: the United States, Israel and Saudi Arabia.The country's paramilitary Revolutionary Guard said it had targeted militants it blames for a recent attack on a military parade that killed at least 24 and wounded dozens more 60 in Ahvaz in southwestern Iran.
But a missile shown on state TV Monday bore the phrase "Death to America, Death to Israel, Death to Al Saud," referring to Saudi Arabia's ruling family.An Iranian state TV reporter did not mince words."In a few minutes, the world of arrogance — especially America, the Zionist regime and the Al Saud — will hear the sound of Iran's repeated blows," he said as a missile roared into the night sky behind him.
Global Power
While Iran's relationships with Israel, Saudi Arabia and the U.S. have never been good, tensions have ratcheted up in recent months.The U.S., Israel and Gulf monarchies are pushing back on Iran's moves to entrench in Iraq, Lebanon, Afghanistan and Syria, where it is one of President Bashar al-Assad's main supporters. Instead of backing off under the pressure, Tehran is doubling down, according to Sanam Vakil, an adjunct professor at Johns Hopkins School of International Studies Europe."Iran generally has a model of asymmetric attacks," she said. "It doesn't respond kind-for-kind, but a bit like whack-a-mole in another theater. It wouldn't respond directly to Saudi Arabia or directly the United States, but the messaging goes out to U.S. or Gulf opponents."Tensions been increasing for months, especially since President Donald Trump withdrew from the landmark Obama-era nuclear agreementwith Iran. Since then, the U.S. has slapped painful sanctions on Iran and threatened to stop the country from exporting oil.
Joining the U.S. is Sunni Muslim regional power Saudi Arabia, which along with other Gulf monarchies views Shiite Iran as deeply hostile. The two are engaged in a number of proxy conflicts — namely in Yemen.Israel, meanwhile, considers Iran its biggest threat, and has launched hundreds of airstrikes to curtail Iranian forces and Iran-backed Lebanese militia Hezbollah in Syria, and keep them away from its northern border.Ali Fathollah-Nejad, a visiting fellow at the Brookings Doha Center and an associate with the Iran Project at Harvard University, said Tehran was also taking advantage of the attacks to test its controversial weapons program."Iran has been using those incidents to test its ballistic missiles, thus circumventing international criticism as its strikes are considered responses against terrorist perpetrators of those attacks," he said.
Iran also says its enemies foment unrest and violence inside the country, and has pinned the blame for the Ahvaz attacks on foreign powers.In a statement released Monday, Iran's Revolutionary Guard said "terrorists" targeted in Syria are supported by U.S., Israel and Saudi Arabia."These three governments are engaging in supporting terrorists inside Iran," according to Foad Izadi, professor of world studies at the University of Tehran. "There are a number of tools available to Iranian authorities to make sure terrorism does not happen again, and using ballistic missiles is just a tool out of many."Iranian Foreign Minister Javad Zarif has blamed regional countries and their "U.S. masters" for funding and arming the separatists who are thought to be behind the Ahvaz attack.But Brian Hook, Washington's special representative for Iran, told reporters on Tuesday that Tehran should "be worried more about protecting the security of their own people than blaming others." He also described the accusations leveled at the U.S., Israel and Saudi Arabia as "so predictable it's laughable."Underlining in increased tensions, National Security Adviser John Bolton last week warned Iran, "If you cross us, our allies, or our partners; if you harm our citizens; if you continue to lie, cheat, and deceive, yes, there will indeed be hell to pay."On Friday, the State Department announced it was closing the U.S. consular outpost in the southern Iraq city of Basra following days of violence and evacuating its diplomatic staff.On Saturday, Iranian TV has broadcast footage supposedly showing a close encounter between the Revolutionary Guard's navy and the USS Theodore Roosevelt. In the video, which PressTV's website says the encounter occurred March 21, Iranian speedboats are seen closing in on the U.S. carrier.
The missile launch and video of the U.S.-Iran maritime encounter follow a broadside by Israeli Prime Minister Benjamin Netanyahu at the U.N.On Thursday, at the United Nations General Assembly it accused Iran of keeping a "secret atomic warehouse" just outside its capital, despite the 2015 deal with world powers meant to keep it from obtaining nuclear weapons.Israel considers Iran its biggest threat and long objected to the nuclear pact, and cites Tehran's calls for Israel's destruction, and the development of long-range missiles as evidence of this hostility."Tensions do seem to be heating up. Netanyahu is on a rampage," Vakil said. "He's not relenting in the U.N. He continues to hammer it home about their underhand nuclear intentions."She pointed out that the Israelis had struck Iran in Syria over 100 times in the past year and warned that such overlapping interests and tensions carried a chance of spinning out of control."The problem is that these flashpoints aren't just located in Syria," Vakil added. "There is possible escalation in Iraq and in Yemen or in the Gulf. There are multiple theaters where escalations could result, and something bigger than anybody really wants to see."Ali Arouzi reported from Tehran, and F. Brinley Bruton from London.