Raw Politics: this week in Brussels...in case you missed it
Comments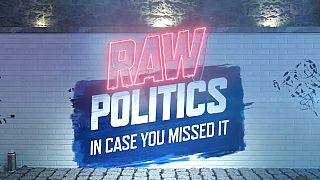 Tesa Arcilla and the Raw Politics team look back at the top stories emanating from Brussels throughout the week.
Brexit is never far from Europe's front pages and this week has been no different. The UK's opposition Labour Party, which held its annual conference in Liverpool at the start of the week, has raised the threat/promise (delete as applicable) of a second referendum, which could include the option of staying in the EU after all.
The phrase 'expenses scandal' is one that all British MPs will be familiar with. When the expense claims of Westminster's members were made public in 2009, many were embarrassed and some even hounded out of their jobs given the public outrage at the news that items such as duck ponds were being claimed back as a professional expense.
It seems that members of the European Parliament will be spared any potential blushes after the European Court of Justice ruled this week that MEPs expenses should not be published for all to see. That decision is a scandal in itself, say many observers.
For a look back at those stories and others including the 'rebranding' of Macedonia and the spectre of a return to the dark days of the nationalist 1930s, sit back and watch the video above.