What do young people think of the UNGA addresses? | #TheCube
Comments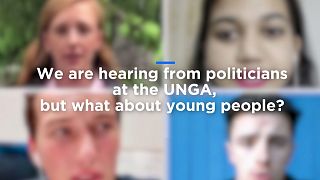 The United Nations General Assembly (UNGA) has seen politicians sparring on issues from trade to migration. However, what do young people think of the topics discussed?
Euronews heard from young people on their opinions of the UNGA addresses and whether the speeches have tackled issues that affect youth.
Francisco Onofre from Brussels called today's youth "the most cosmopolitan generation ever". The twenty-one-year-old History and Political Science student said the UNGA showed that "multilateralism and diplomacy are no longer valued as solutions".
Meanwhile, Faye Murphy from Cork, Ireland, called on UNGA delegates to address the issue of sexual consent and violence. Murphy, a twenty-two-year-old and Commercial and Communications Officer at University College Cork said that "violence against women" is an issue affecting young people in Ireland and asked leaders to "have the conversation started".
Geeti Ara Mim, a twenty-one-year-old speaking from China, said that without the social development of youth, "a nation cannot reach her intended goals".
Paul Dockery from Leitrim, Ireland, praised the UN 2030 plan which aims to "end unpaid internships across the UN". The former Irish UN Youth Delegate said that the UN 2030 agenda, which was launched on September 23, aims to "strengthen the role and influence of young people" and called the strategy "a positive move".
The first of the high-level UNGA addresses began Tuesday amid rising tensions between the US and Iran. US President Donald Trump has dominated the headlines with his talk of patriotism and dismissal of globalisation. French President Emmanuel Macron countered Trump's address, saying that "unilateralism leads us to withdrawal and conflict".