2018 World Judo Championships: Generation shift in Baku as the heavyweights mark a new era
Comments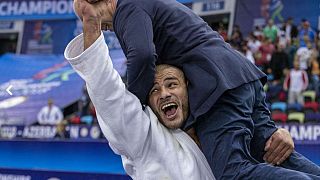 On day seven of the 2018 World Judo Championships in Baku, Azerbaijan, world number one Guram Tushishvili of Georgia won his first world heavyweight title as the men's +100kg crown switched hands for the first time since 2007.
World Judo Masters gold medallist Tushishvili, 23, who finished fifth a year ago in Budapest, won all five of his contests by ippon
In the semi-final he defeated former Junior World Champion Duurenbayar Ulziibayar of Mongolia with a thunderous seoi-nage for ippon.
Next, a final against home favourte Ushangi Kokauri, who had reached the final in spectacular style, much to the delight of the President of Azerbaijan Ilham Aliyev sitting alongside the President of Mongolia Khaltmaa Battulga and IJF President Marius Vizer.
The crowd went wild. An excellent O-Uchi-Gari from Kokauri, who guaranteed his country's best medal at these championships.
But it was to be Tushishvili, who threw his Georgian-born rival with only six seconds left on the clock with seoi-nage for ippon. 
Georgia's first gold medallist in Baku thrilled the huge contingent of Georgian fans who lifted the roof off the stadium as the new world champion pointed to his name on the back of his judogi
It was a huge moment as he was presented his gold medal by President of the Azerbaijan Judo Federation Rovnag Abdullayev.
"This is a fantastic feeling for me, the best feeling I've ever had. Right now, I don't know what to say, I have no words to express my emotions," said Tushishvili in an interview. "In the last World Championships, I lost in the semi final and because of this, I wanted to become World Champion even more. All my efforts and my hard training were finally realised with the help of God," he said.
**Japan's Asahina crowned heavyweight world champion **
Openweight world champion Sarah Asahina of Japan was crowned the heavyweight world champion in Baku. The 21-year-old was outstanding throughout the preliminaries, showing off her trademark ashi waza techniques as she marched to the final.
After defeating Bosnia and Herzegovina's Larisa Ceric in the semi final, she overcame three-time Olympic medallist Idalys Ortiz of Cuba in the +78kg final . A tight contest was settled on penalties, as Asahina reigned supreme.
"Last year I participated in the world championships in Budapest, and I got silver. 389 days, and I am now World Champion. This is very emotional and I am very happy to have got a world championship gold medal, so now I'm so satisfied," Asahina said in an interview
IJF flag passed to Japan ahead of next year's world championships in Tokyo
President Marius Vizer (centre) passed the IJF Flag from President Rovnag Abdullayev (right) to All Japan Judo Federation President Yasuhiro Yamashita (left) ahead next year's world championships in Tokyo.