China says trade war to 'certainly' hurt U.S. exporters, create opportunities to others
Comments
By Reuters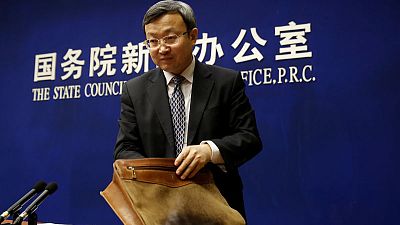 -
BEIJING (Reuters) – China is being forced to retaliate against the United States in their trade dispute, and U.S. exporters including suppliers of liquefied natural gas would "certainly" be hurt, said Chinese vice commerce minister Wang Shouwen.
But Beijing's retaliation would provide opportunities to other LNG-exporting countries, Wang said at a press conference on Tuesday, adding that Australia is an important source of the fuel for China.
The United States and China imposed fresh tariffs on each other's goods on Monday as the world's two biggest economies showed no signs of backing down from an increasingly bitter trade dispute that is expected to hit global economic growth.
Beijing said it was willing to restart trade negotiations with Washington if the talks are "based on mutual respect and equality," according to a white paper on the dispute published by the State Council, or cabinet, on Monday.
The United States stands to gain more from Sino-U.S. trade, China's international trade representative Fu Ziying, said at the same press conference.
While China has a trade surplus with the United States, it's the latter that has a profit surplus with China, said Fu, who is also a vice commerce minister.
(Reporting by Yawen Chen and Se Young Lee; Writing by Ryan Woo; Editing by Shri Navaratnam)