France's 2019 budget to ease tax burden on households, firms
Comments
By Reuters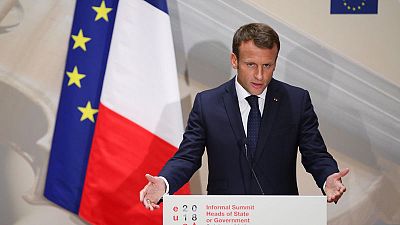 -
By Leigh Thomas
PARIS (Reuters) – France will reduce the tax burden on households and companies by nearly 25 billion euros (22.4 billion pounds) next year, the government said in its 2019 budget bill, pushing the deficit up towards an EU cap as the economy fails to gain pace.
Households will see their tax bill reduced by a total 6 billion euros while business taxes will fall by 18.8 billion euros, resulting in the overall tax burden decreasing to 44.2 percent of national income, the lowest for France since 2012.
With his approval ratings falling sharply, President Emmanuel Macron wants to cut taxes to revive the economy and create jobs, while also honouring an EU rule to keep the budget deficit below 3 percent of gross domestic product. Taxes rose sharply under Macron's two predecessors.
A more sluggish-than-expected economy is complicating that effort.
"In this difficult moment the European Union is going through now, France must respect its financial commitments too keep all of the political credibility that it needs," Finance Minister Bruno Le Maire told journalists.
The government confirmed that the public sector budget deficit was set to rise to 2.8 percent of GDP next year from 2.6 percent this year.
That would lift the budget shortfall close to the EU cap, although it would stand at 1.9 percent excluding the long-expected, one-off effect of plans to transform a corporate payroll tax credit scheme into a permanent tax cut.
Macron was accused by critics of being a president of the rich after he cut taxes on the wealthy and companies in his first year in office while reducing housing benefits and increasing social security levies that hit pensioners in particular.
Macron's popularity is plumbing new lows and the president is counting on the tax cuts for households — notably a phasing out of housing tax — to boost their purchasing power.
That, his administration calculates, will make it easier for households to swallow tough reforms next year targetting the pension system and unemployment insurance.
While the government has kept overall public spending stable this year after inflation, the 2019 budget foresees an increase of 0.6 percent after inflation.
The government has faced pressure from the International Monetary Fund and the central bank to detail budget savings necessary to rein in spending and finance tax cuts.
Budget minister Gerald Darmanin declined to say how much was expected in planned budget savings next year.
The budget is based on expectations that the economy will grow 1.7 percent both this and next year, which the independent fiscal watchdog said was a "credible" expectation.
($1 = 0.8499 euros)
(Reporting by Leigh Thomas; editing by Richard Lough and Toby Chopra)