Pope Francis warns of the dangers of anti-Semitism
Comments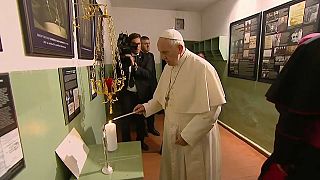 The pope has warned against anti-Semitic attitudes that led up to the Holocaust and paid tribute to Jews killed by Nazis and deported by the Soviet KGB during his visit in the Baltics. 
Francis was speaking in Lithuania on Sunday where he visited the Museum of Occupations and Freedom Fights. He was in the Baltic nation for the annual remembrance for Lithuania's Jewish community that was almost wiped out during the Second World War.
The museum is a former Gestapo prison that was then used by the Soviet Union's KGB to detain and interrogate Lithuanian dissenters who were often tortured. Hundreds were murdered or shipped off to Siberia.
Earlier, the Pope also visited the ghetto which was razed to the ground by the Nazis exactly 75 years ago. Of the 60,000 Jewish people forced to move there in 1941, only 2,000 survived.
**Vatican and China sign historic agreement **
On Saturday, the Vatican said the pope has recognised seven state-appointed Chinese bishops. China's communist party and the Vatican have been divided about the ordination of bishops since each bishop has to be a member of the China Patriotic Catholic Association (CCPA), ensuring their loyalty to the government and limiting any power struggles between political and religious leaders.
Ordination of bishops
There are seven bishops appointed by the CCPA but not recognised by the Vatican, then 20 bishop candidates who have been appointed by the Holy See, and in some cases already secretly ordained, according to the Irish Times.
Then there are another 40 "underground" bishops whose legitimacy is accepted only by the Vatican and who live in constant danger of arrest.
About 60 bishops are recognised by both the Holy See and the CCPA.
The communist government of the People's Republic of China (PRC) under Mao Zedong expelled the last Vatican diplomat in 1951, and the Vatican is struggling to return under its own terms.
The Vatican has extended diplomatic recognition to the Republic of China since 1942, according to The Diplomat.