Spanish amateur golfer found dead in Iowa
Comments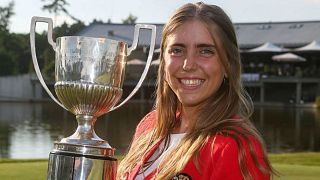 Iowa police made a gruesome discovery earlier this week when they found the dead body of a Spanish student and amateur professional golfer, her body floating in a pond.
College student and star athlete, Celia Barquin Arozamena, 22, was murdered in broad daylight while practising alone on a golf course near Ames, Iowa. Police found her body on Monday with stab wounds in the upper torso, head and neck.
Colin Daniel Richards has been charged with first-degree murder. He had been living in the woods near the golf course and according to police, told an acquaintance he had an urge to rape and kill a woman. Dogs tracked his scent and found him with fresh scratches on his face consistent with fighting and a deep laceration on his left hand.
Her brother, Andres Barquin, said his family is together, working through deep pain, struggling to understand why this happened.
"It's been really hard. She's a huge part of our family — and, you know, we're broken and we're missing a part of who we are," said Christie Martens, the golf coach of Barquin.
Barquin Arozamena, a Spanish native, was a Big 12 champion and Iowa State's female athlete of the year. She'd also earned an invitation to the 2019 Women's British Open because of her victory at the European Ladies' Amateur Championship in July.