South Korea's president says North Korea agrees to dismantle missile sites
Comments
By Reuters and Associated Press with NBC News World News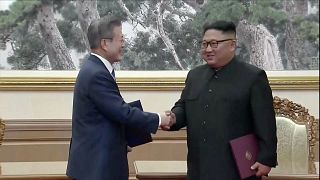 Copyright

KBS via Reuters TV

-
SEOUL — North Korea agreed to allow international inspectors to observe a "permanent dismantlement" of its key missile facilities, and will take additional steps such as closing its main Yongbyon nuclear complex if the United States takes reciprocal measures, South Korea's President Moon Jae-in said on Wednesday.
North and South Korea agreed that the Korean Peninsula should turn into a "land of peace without nuclear weapons and nuclear threats," Moon said following the conclusion of hissummit talkswith North Korean leader Kim Jong Un.
Speaking at a joint press conference with Moon, Kim said he will visit the South's capital Seoul "in the near future."
If realized, Kim would be the first North Korean leader to visit Seoul since the peninsula was divided into North and South.
Kim's late father, Kim Jong Il, had promised reciprocal visits when South Korean leaders visited him in Pyongyang in 2000 and 2007. But his Seoul trip wasn't realized before his 2011 death.
A joint statement also says the two Koreas have agreed to seek to obtain the rights to co-host the 2032 Summer Olympics.
The statement was released by Seoul on Wednesday after the Pyongyang summit. It says the two leaders also agreed to cooperate in major sports events such as the 2020 Summer Olympics. It didn't elaborate.
It also said the two leaders have also agreed on a Pyongyang art troupe visiting Seoul for performances in October.
This is a developing story. Please check back for updates.