Nine thousand aslyum seekers camped at Lesbos
Comments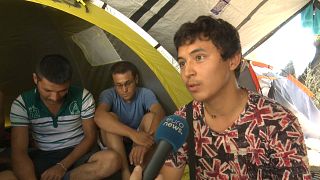 This is Moria in Lesbos. Almost up to 9000 asylum seekers strive to survive both inside and outside the camp. Ηundreds set up their tents in fields and remain exposed to cold and rain.
23-year-old Maryam Parsa from Afghanistan is among them. She reached the island 7 days ago with her son and her many dreams. She wants to live in Germany but, as she says, Moria is not what she expected to find in Europe. "It's so bad. Not enough doctors for our son(s), not enough medicine, not enough. There are not enough blankets, not enough food. Our sons, all become sick. This is not a good situation for us. If they don't let us go to Europe, then make this situation good"
A few meters way some teenagers play football, however, Muhammad Raza from Afghanistan prefers karate. Despite his young age at 18, he's already won medals and wishes to become a professional after relocating to France.
Muhammad unfortunately shares Maryam's disappointment in living conditions in Moria. "I thought that it would be good place. That they would give us a good place to live, but I when I came here, I saw that i was wrong".
"You were shocked".
"Yes, I was shocked. When I saw the tents I was shocked".
Meanwhile, 2,000 asylum-seekers will be moved from the island of Lesbos to the Greek mainland by the end of the month. That's according to Greek authorities.
It's after human rights groups and local authorities criticised Greece for the poor conditions at the camp at Moria.
Apostolos Staikos, Euronews says, "Activists and NGO's call Moria the ''Shame of Europe'' and ask from authorities to move children and other vulnerable refugees from Moria. The government replies that it has moved around 4000 in the last four months, however, more refugees keep coming to the island. Apostolos Staikos, Lesvos, euronews"