Watch: Massive chunk of ice breaks from Greenland glacier
Comments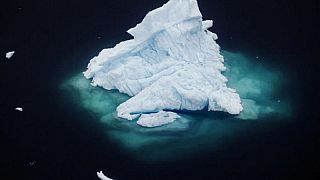 A massive chunk of ice – five miles wide and a half mile deep – broke off of the Helheim Glacier near Tasiliaq, Greenland creating multiple icebergs in the Greenland Sea.
The rare footage from June, captured by Reuters photographer Lucas Jackson, was sped up 1600% to demonstrate the creation of vertical icebergs known as tabular icebergs.
The process of forming icebergs from glaciers is called calving, an event that can be caused by warming oceans and increased climate change. 
Rising seas remain a threat to low-lying cities and islands around the globe.
The separated ice was approximately the size of lower Manhattan, according to David Holland, a New York University oceanographer who witnessed the event and has studied Greenland's glaciers for 12 years.
"At that moment, that is sea-level rise. That is ice going into the ocean, raising a very slightly - global sea level. It's the accumulation of many events like that that can lead to a large, significant global sea level of many feet perhaps in a century," said Holland.
Holland has been part of NASA's Oceans Melting Greenland (OMG) project, a five-year, $30 million effort aimed at improving sea-level rise projections.
The project's goal is to better understand how warming oceans are melting ice sheets from below.
According to NASA, melting ice in Greenland currently adds 0.8-millimeters of water to global ocean levels annually, more than any other region. That is enough water to fill 115-million Olympic-sized swimming pools.