Ex-Austrian chancellor seeks European Commission top job. Who is he?
Comments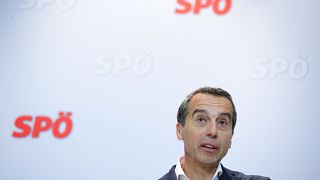 Former centre-left Austrian chancellor Christian Kern has announced he will seek to succeed Jean-Claude Juncker in the 2019 European Parliament elections.
Who is Kern?
Kern, 52, became Austria's 24th chancellor in 2016 but lost in a snap election to conservative Sebastian Kurz, only one year later. Kern's campaign revolved around criticising the Austrian political elite as not having a meaningful political agenda for the country's future.
Before leading Austria, Kern was in charge of the Alpine republic's state-run railway operator OBB. He previously served as spokesman for the Social Democratic Party's (SPÖ) parliamentary group and as a manager at Austrian hydropower utility Verbund.
Why is he running now?
The pro-European Kern's candidacy will hope to provide a balance to growing nationalist forces throughout the continent.
Timing of this announcement to become the Spitzenkandidat coincides with the EU summit in Salzburg, Austria, where Kern will meet with EU's Social Democratic leaders to gain support.
The Austrian government, led by a far-right coalition, has made Europe's migration crisis a priority as they take over the European Union presidency.
Kern plans on stepping down as chair of the Social Democratic Party of Austria no later than May of next year to focus on his campaign. It is unclear who will replace him as leader of the Austrian Social Democrats.
What's he promising?
Kern told reporters that the concept of a liberal, open-minded democracy is being challenged by nationalist politicians throughout Europe.
Among the EU leaders he mentioned by name were Hungarian Prime Minister Viktor Orban and Italy's Deputy Prime Minister Matteo Salvini, who seek to form a joint anti-migration front.
"It is the most important challenge for us Social Democrats to ensure that Europe's heritage is preserved," Kern said in his short statement.
Who else is eyeing the top post?
Kern's strongest competition could come from European Commission Vice-President Maroš Šefčovič, who announced on Monday his own plans on rising to the top spot in Brussels. From the former communist bloc, the 52-year-old Slovakian has presented himself as sensitive to Europe's growing East-West divide.
"My vision is clear: We need our people from all walks of life from every corner of Europe to feel fit for the future," Šefčovič said Monday as he announced his candidacy.