EU probes German car makers for suspected collusion to cheat emission tests
Comments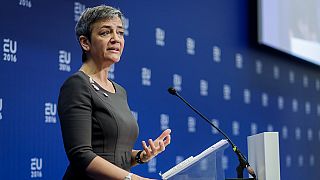 EU competition regulators launched a probe on Tuesday into whether German car manufacturers colluded to prevent the development and roll-out of clean emissions technology.
The investigation follows inspections carried out by the EU Commission at the premises of BMW, Daimler, Volkswagen and Audi in October 2017, which revealed that along with Porsche, the car manufacturers had participated in meetings during which the development and deployment of technologies to limit polluting car emissions were discussed.
The probe will focus on whether the companies colluded to limit the roll-out of two particular control systems for cars sold in the European Economic Area. They include the "selective catalytic reduction" systems to reduce harmful nitrogen oxides emissions from diesel engine cars and "Otto" filters, which limit harmful particulate emissions from petrol engine vehicles.
"These technologies aim at making passenger cars less damaging to the environment. If proven, this collusion may have denied consumers the opportunity to buy less polluting cars, despite the technology being available to the manufacturers," Competition Commissioner Margrethe Vestager, said in a statement.
The Commission added that at this stage it did not have any indications that the "Circle of Five" — as these car manufacturers are collectively known — coordinated to use illegal defeat devices to cheat regulatory testing.
'Dieselgate'
This has the potential to be yet another tough blow for the German car industry, which has for years been mired by the so-called "Dieselgate" scandal.
The scandal erupted in 2015 after US authorities accused Volkswagen of installing devices on its cars to cheat emission tests. VW admitted it had done so, leading several other countries to launch investigations and prompting then-CEO Martin Winterkorn to resign.
The company also announced in 2016 that it had set aside €16.2 billion for compensation payments and fines. Daimler and BMW have also been implicated but denied wrongdoing.
Car manufacturers in the spotlight
Vestager's department at the EU Commision has made itself quite the name worldwide for going after big multinationals including Google and Apple and imposing tough fines
The car industry has not been spared. In 2016 the Commission imposed €2.93 billion worth of fines on truck producers including MAN, Volvo/Renault, Daimler, Iveco and Daf for colluding on prices. Scania reached a deal a year later and agreed to pay €880 million.
Automotive parts suppliers have also found themselves under Vestager's scrutiny, including the makers of car seats, braking systems, spark plugs and lighting systems, which were sanctioned in the millions of euros.
If found guilty of breaching EU competition rules, the Commission can impose fines of up to 10% of a company's annual turnover.