What's behind the Salvini-Asselborn migration row? | Euronews answers
Comments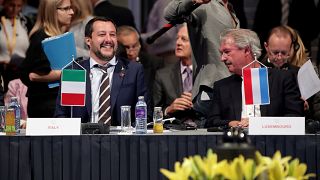 Two senior ministers from Italy and Luxembourg have continued to trade accusations and insults in a row over European migration that blew up last week.
Luxembourg's foreign minister has compared comments by Italy's interior minister to 1930s fascism, while Matteo Salvini shot back, describing Jean Asselborn as "ignorant".
What did the pair say to each other on Thursday?
The first angry exchange came as Matteo Salvini was addressing a European Conference on security and immigration in Vienna.
Italy's far-right interior minister and deputy prime minister disputed the idea that Europe needed immigration because the population was ageing, saying he saw things differently.
"I'm paid by citizens to help our young people start having children again the way they did a few years ago, and not to uproot the best of the African youth to replace Europeans who are not having children anymore… Maybe in Luxembourg there's this need, in Italy there's the need to help our kids have kids, not to have new slaves to replace the children we're not having."
Sitting a few places away, Luxembourg's foreign and immigration minister grew visibly angry. Finally, Jean Asselborn interrupted the Italian in French with "allez, allez, allez" and suggested Salvini had gone too far.
"In Luxembourg we had tens of Italian immigrants. They came as migrants, who worked in Luxembourg so that you in Italy could have money to pay your children," he said in French, apparently referring to the post-World War II period. He concluded with the exclamation "merde alors!" ("shit then").
How has the pair responded since?
Over the weekend Asselborn accused Salvini of using "methods and tone of the fascists of the thirties," the German publication Der Spiegel reported. "I stand by what I said."
Salvini responded on Sunday with a tweet attacking the "socialist minister from the tax haven Luxembourg". "No fascism, just respect of the rules. If they like immigrants so much then they should welcome all of them to Luxembourg, in Italy we have already welcomed too many," he said.
The far-right leader also accused Asselborn of being an "ignorant person", the Italian news agency Ansa reported, as he was unaware of Italian emigration. This, said Salvini, had nothing to do with "clandestine people who come here, deal in drugs and commit robberies".
How did the exchange become public?
Last week's initial flare-up occurred at a behind-closed-doors session at the conference. But the exchange was filmed and shared on Salvini's Facebook profile.
The interior ministers from Italy and Austria — which holds the rotating European Union presidency — have suggested that the EU hold migrants rescued at sea on ships for days while an initial screening of their chances of obtaining asylum is carried out.
Far-right parties like Italy's League and Austria's Freedom Party have long pushed for a system where migrants rescued from the Mediterranean be taken back to Africa.
Italy's new government — and Salvini in particular — have raged at other countries for not taking in their share of migrants rescued at sea.
How many migrants have Italy and Luxembourg taken in?
According to figures from Eurostat, Italy had 15,495 first-time asylum demands in 2017, compared to 610 in Luxembourg. Relative to the respective populations of each country, that works out at around one in just under 4,000 for Italy, and one in just under 1,000 for Luxembourg.
More than 119,000 migrants arrived in Italy after crossing the Mediterranean Sea in 2017, figures from the International Organization for Migration (IOM) show.
European Commission statistics show that in 2016 Luxembourg had the highest proportion of non-nationals in the EU, amounting to 48% of its total population. It also had the highest number of immigrants into the country, at just under 40 per 1,000 residents.