World Cleanup Day 2018: The largest waste collection day in history
Comments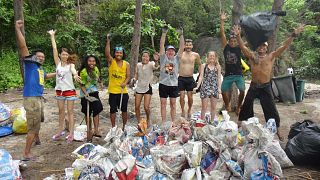 World Cleanup Day 2018 is set to make history on Saturday as the biggest-ever single day of volunteer-based waste collection efforts.
The day calls on people around the world to "come together to rid our planet of trash — cleaning up litter and mismanaged waste from our beaches, rivers, forests, and streets."
Some 20 million volunteers in 120 countries have already signed up to take part, while millions more are expected to show up on the day.
So who is behind World Cleanup Day, how can you take part and why are some opting not to get involved?
Taking part
The easiest way to take part in World Cleanup Day is by heading into your street, park, town square or favourite place and picking up rubbish.
To participate officially, you can look on the event's official website to find out what cleanups are being organised nearby, or create your own event and share the details.
Organisers will gather the information sent from the different events around the world to count the number of volunteers and measure the amounts of trash picked up.
On social media, you can track the event with popular hashtags such as #WorldCleanUpDay, #LetsDoit and #suituptocleanup (for ocean and waterways).
Who is behind World Cleanup Day?
World Cleanup Day was started by Let's Do It! World, a waste collection movement that started in Estonia 10 years ago, when it gathered 4% of the population for a single day of cleaning in which they collected some 10,000 tons of rubbish.
The NGO has since been involved in the largest cleanup day on record, when 250,000 people in Solvenia took part in the collection of 10,000 tons of illegal waste in 2012.
But Johnny Azpilicueta, team leader of Let's Do It! Spain, said the day, which is sponsored by the UN, "does not belong to anyone".
"Volunteer collecting has the virtue of uniting people, and it creates bonds between citizens and authorities, municipalities and organisations that would not otherwise occur," Azpilicueta said.
He added that people who participate in such collections "will be more careful and will throw away less garbage" in the future.
The Ocean Conservancy, which has been organizing volunteer waste collection events for 30 years, is also teaming up with Let's Do It! World to organise this year's event.
"We are very excited about the impact our two organisations will have on our ocean and our world," Allison Schutes, associate director of the Ocean Conservancy's "Trash Free Seas" programme, told Euronews.
Why aren't some people taking part?
Some organisations, such as the French branch of Zero Waste, have decided to disassociate themselves from the initiative, which they believe does not go far enough in tackling waste.
The NGO says that while the event raises awareness, emphasis should be on generating as little waste as possible, rather than on cleanups.
A recent report from French public TV revealed links between some voluntary collection organisations and the companies that produce the most waste.
Lobbies in packaging often create voluntary clean-up associations with the aim of "unburdening themselves of guilt", the documentary found.
It noted that the lobbyist in Brussels defending packaging producers is also vice president of an association that aims to clean Europe.
So why take part?
Azprendiz told Euronews the goal of the World Cleanup Day is to get everyone taking part in ridding the world of rubbish. 
He argued that "there are 364 days a year to criticize", and World Cleanup Day should be a time to come together.
He added that Let's Do It! World believes in the power of ordinary people to make a difference to the issue of waste.
"The problems caused by industrialists are there, but the decision of what we buy and where we throw it comes from each one," he said.