From serious to satire as web makes fun of Navalny fight threat
Comments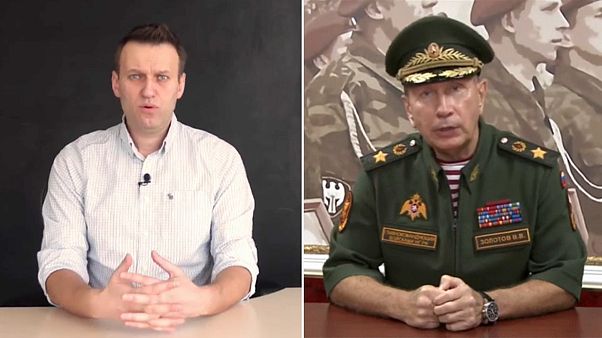 Web users have turned to humour after Vladimir Putin's ex-head of security challenged opposition leader Alexei Navalny to a fight.
Viktor Zolotov, who now leads Russia's National Guard, the government's internal military force, said he would beat the anti-corruption campaigner "to a pulp".
But with Navalny behind bars serving a 30-day jail sentence for staging an illegal protest, the internet responded on his behalf.
Viktor Soldatov, a bronze medallist of the World Aquatics Championships and an associate of Navalny, challenged Zolotov to a duel in the swimming pool.
"Let's see what you will look like in a pool next to me," he said in the video message. "You will look like anchovies cooked in tomato sauce ... because I will tear you apart like a real killer whale. "
Not all the satirical challenges were physical: this one is about a pensioner saying Zolotov couldn't survive on a €100 pension.
Other users tested Zolotov to a duel playing computer games, a battle with cushions and a maths contest.
Zolotov challenged Navalny to a duel in response to allegations from Navalny's Anti-Corruption Foundation. The group had published an investigative report about evidence of corruption in the Rosgvardia's (National Guard) food-supply procurement contracts in August.
"I promise that in just several minutes I will beat you to a pulp," he threatened.
"Nobody has ever kicked your butt properly so that you'd feel it in your liver but now you came to the right person," he went on.
Putin's spokesman, Dmitry Peskov, told reporters that Navalny's investigation was "shameless lies" and supported Zolotov's outburst, saying that "sometimes you need to fight shameless libel with all possible means".