Williams feels the pain, still waiting for gain
Comments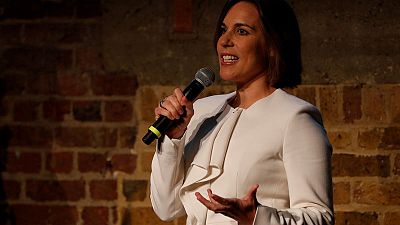 -
By Alan Baldwin
LONDON (Reuters) – All pain and very little gain is the story of Williams' Formula One season so far, with the former champions last and with only seven points from 14 races ahead of Sunday's Singapore Grand Prix.
Claire Williams, the deputy principal who runs the illustrious team founded by her father Frank, can only agree about the pain but is adamant there will also be a gain eventually.
"I did read the other day about somebody saying they didn't think Williams felt pain any more when we don't do well," she told Reuters in a recent interview.
"For me this has been up there with one of the most painful experiences of my life.
"This team… is like another sibling to me. It feels like another one of my children. I take a huge sense of personal responsibility for it."
Williams were fifth last year, well behind fourth placed Force India but still the only team outside the top three with a driver on the podium.
Technical head Paddy Lowe had signalled a change of aerodynamic philosophy before the season started but the outcome has been like having an ice bucket poured over the head.
Williams have scored points in only two races, Canadian Lance Stroll eighth in Azerbaijan and ninth in Italy with Russian Sergey Sirotkin 10th after Haas driver Romain Grosjean was disqualified.
Haas are appealing, meaning that those points from Monza are not yet assured.
FARBEHIND
There has been some improvement, with Stroll qualifying 10th in Monza in the team's best Saturday performance so far, but Williams are still far behind the rest.
That is not a new experience for a proud team that dominated in the 1980s and 90s but have gone up and down like a yo-yo of late, third in 2014 after finishing ninth in 2013.
Claire Williams felt the turnaround that followed the 2011-13 period, and owed a lot to the introduction of the V6 turbo hybrid engines and the dominance of suppliers Mercedes, had brought a sense of false security.
"Sometimes that blinds you a bit… and you don't do the level of detail, get into the weeds of what you really need to do in order to make a successful team," she said.
"If anything positive has come out of this, it has led all of us to really look deeply at what we do and to make sure that where we are failing, we're addressing those weaknesses and to make sure that we put this team into good shape for the future."
Williams said she had also asked herself whether she might be part of the problem.
But where some teams might 'chop a few heads' as part of the process of rebuilding, she felt a more measured response was needed.
"One person can't change the world. No one person is the magician," she said.
"They at least need to be afforded some time to demonstrate their talent and to implement changes… there would be no point making a rash decision because you're only going to end up in the same place.
"It's the same for me, I'd never been a team principal before, or run a business before I was running Williams. It's a case of going through your job and learning almost as you go along. That's what we're doing.
"We're now trying to do the best we can to make sure that we put in place everything we need to, to give it a successful future. But that takes time."
FUTUREPLANS
Williams said the rest of the season would be about bringing upgraded parts to the car to evaluate developments for next year's campaign.
The team are losing title sponsor Martini at the end of the season while Canadian billionaire Lawrence Stroll is expected to take his son to Force India, which he now controls through a consortium of investors.
That will leave a hole in the finances, with the share of television revenues also set to shrink as a result of the championship placing. Williams said it was not all doom and gloom, however.
"Lawrence has kept us appraised of what his plans have been and so we've been aware of that and can plan for that," she added.
"Yes it's a very difficult landscape but we're lucky that people want to see us do well, they want to help contribute to that and be part of the journey back towards success again.
"It's a concern every year, the finances of an independent team. But, as Frank always says, something always turns up. It always has and we always end up the following year breathing a sigh of relief that we've got a healthy racing budget again."
(Reporting by Alan Baldwin, editing by Christian Radnedge)
euronews provides breaking news articles from reuters as a service to its readers, but does not edit the articles it publishes. Articles appear on euronews.com for a limited time.