Pillar of Smoke: a visual journey into Turkey's contemporary scene
Comments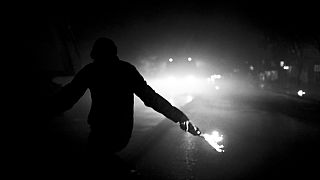 Copyright

Çağdaş Erdoğan, from the Control series, 2015-2016
Rencontres d'Arles is one of the biggest photography events in Europe, taking place in Arles in the south of France. Around 125,000 people visit the festival from July through September each year. Some 50 artists exhibit their work in the different venues of the ancient Roman town.
Euronews talked to these renowned photographers, who showed us around their exhibitions, explaining their award-winning projects that make a difference in the world of photography.
This edition focuses on 'A Pillar of Smoke' exhibition. French designer Jean Paul Gaultier and actress Marion Cotillard visited this exhibition and it caught our eye, too. It features the work of 14 Turkish photography artists and photojournalists exploring their country's society today. Some of the images were banned in Turkey while others escaped the censors — but it's not easy to figure out which ones were banned, and why.
Check out our video interview with the artists featured at the exhibition.