Dutch man wins Welsh bookshop in raffle
Comments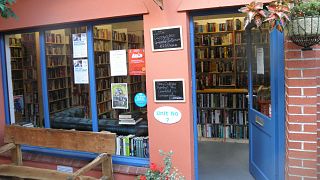 Copyright

Bookends Bookshop/Facebook
A man from the Netherlands has won an entire bookshop in west Wales after its owner decided to raffle off the business so he could enjoy an early retirement with his wife.
Paul Morris, 52, opened Bookends in Cardigan four years ago.
He and his wife Leila, 47, came up with the idea for the giveaway after her sister passed away in January.
"There's that cliché of you only live once. It put that into context...We wanted to live abroad and do other things," Leila told Euronews.
"We're going to retire and travel and buy a camper van. All those fun things people put off until they're older, we're going to do now."
The couple decided that they didn't want the long waits that can be involved with selling a business and were keen to give someone else the chance to own a bookstore.
So for three months, anyone who spent more than £20 (€22) at the shop was eligible to be entered into the raffle.
"People bought books and then if they wanted their name in the hat, they could have their name in the hat. What we wanted was for people to really think about it... to think could they make this work," Leila said.
The winner, 30-year-old regular customer Ceisjan van Heerden, was announced this week.
Van Heerden, who is from the Netherlands but lives in Wales, wasn't present when his name was pulled at random from around 60 entrants.
"When we drew the name out of the hat, we couldn't actually read his name — we couldn't read his writing and his name was in Dutch," Leila recalled.
"When we phoned he didn't answer at first.. But when we spoke I think the poor guy had to sit down for a little while and take it all in," she joked.
Van Heerden, who currently works as a farm-sitter, will take over the shop in early November and plans to run it alongside his friend from Iceland.
The Morris' are now looking forward to stepping away from the business.
"We're hoping to start with a camper van and just have more time together," Leila said.