Tsipras warns of battle to save EU
Comments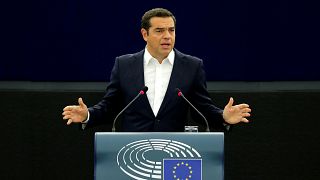 Greek Prime Minister Alexis Tsipras said Europe must face its policy failures to stop the rise of the far right. The left-wing leader told lawmakers in the European parliament that the economic austerity pursued by European governments had fostered fear and racism. He said Europe could face a catastrophe if it didn't address its fiscal crisis and the influx of migrants.
Tsipras, who was elected in 2015, also warned that future European elections will be battle to save EU, adding that the Union must act to provide democratic solutions
Since 2015. hundreds of thousands of refugees have come to Greece as a gateway into the European Union. Many coming from Syria and other war-torn countries in the Middle East and Africa. The country emerged from eight years of international bailouts in August.