Roadblock by Kosovo war veterans hinders Serbian presidential visit
Comments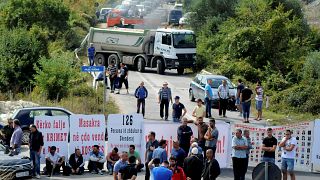 -
About 200 Kosovo war veterans blocked the road leading to the Serb-populated village of Banje on Sunday, during Serbian President Aleksandar Vucic's second and final day in the country. Roads leading to the region were blocked by wooden logs, trucks and heavy machinery.
Vucic and his entourage were later stopped by Kosovo police on the road to the Drenica region and were told they couldn't continue for security reasons.
The Serbian leader said at a rally later in the day that he remains committed to reaching a compromise with Kosovo which could, in turn, open the way for both countries to move towards membership with the European Union.
Many Kosovo war veterans present at the blockade voiced their unwelcoming attitude towards Vucic. "We came out here today to prevent Serbia's President Vucic from crossing through Drenica and through Prekaz, because this is Prekaz from here to Polac. I was wounded seven times on the frontlines, we prevented them (Serbs) to come here with tanks, for him (Vucic) to come here there is no chance," said war veteran Ilmi Brahimi in Albanian.
NATO-led peacekeepers in Kosovo say the safety of Vucic was not threatened despite the blockade that prevented the full scale of his visit. Vucic later criticized NATO-led peacekeepers for not preventing the blockade in the first place.
Vucic was an ultranationalist during the 1998-99 Kosovo war when a crackdown on ethnic Albanian separatists led to the deaths of more than 10,000 people. Kosovo currently has a population of 1.8 million and is nearly 95% ethnic Albanian while only 1% ethnic Serb.
The conflict ended with NATO intervention, which forced Serbia to pull out of the province leading to Kosovo declaring independence in 2008, a move that Serbia still does not recognize.
After President Vucic was unable to reach Banje, thousands of Serbs living in Kosovo gathered on Sunday in the Serbian-controlled northern part of Mitrovica to hear Vucic speak.
"We want to be part of European Union, (Kosovo) Albanians are looking for a visa-free travel regime with the EU and to get that we need to live together, we need to live next to each other," Vucic told the crowd, who were waving Serbian flags.
Both Belgrade and Pristina have floated the idea of a land swap, which would allow Serbia to keep control over northern parts of Kosovo that is mainly populated by Serbs. In return, Belgrade would hand southern municipalities mainly populated by ethnic Albanians to Kosovo.
"We do not have a draft solution yet, we are not even near it, but for the first time we know that we need to talk and arrange our relations," Vucic said.