It wasn't me. List of senior officials who deny writing the NY Times op-ed.
Comments
By NBC News with NBC News Politics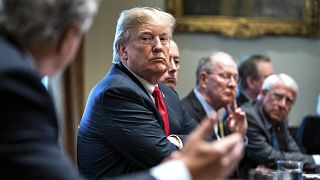 Copyright

Jim Lo Scalzo EPA

-
A number of Cabinet and Cabinet-level officials in President Donald Trump's administration rushed to deny on Thursday that they were behind the explosive anonymous opinion article published in The New York Times a day earlier.
The author's identity remains unknown, but here are all the Trump administration officials who have gone on the record to deny it was them:
Vice President Mike Pence:
His office told NBC News that "definitively denies" that he was the author. His communications director also tweeted that "The Vice President puts his name on his Op-Eds."
Secretary of State Mike Pompeo:
He told reporters, "It's not mine" and said The Times should not "have chosen to take a disgruntled deceptive bad actor's word for anything and put it in their newspaper."
Director of National Intelligence Dan Coats:
"Speculation that The New York Times op-ed was written by me or my Principal Deputy is patently false. We did not," he said in a statement.
Department of Homeland Security Secretary Kirstjen Nielsen:
"Secretary Nielsen is focused on leading the men and women of DHS and protecting the homeland - not writing anonymous and false opinion pieces for the New York Times," the agency's press secretary, Tyler Q. Houlton, said in a statement.
Defense Secretary James Mattis:
"It was not his op-ed," chief Pentagon spokesperson Dana White said.
Director of the Office of Management and Budget Mick Mulvaney:
"No, Dir. Mulvaney is not the author," a spokesperson for Mulvaney told NBC News.
Department of Housing and Urban Development Secretary Ben Carson:
"The Secretary didn't write the op-ed," a spokesperson for Carson told NBC News.
Treasury Secretary Steve Mnuchin
"It is laughable to think this could come from the Secretary," Tony Sayegh Jr., a spokesman for Mnuchin, tweeted.
Check back for updates.