Aides went behind Trump's back to thwart decisions, new Bob Woodward book alleges
Comments
By Adam Edelman with NBC News Politics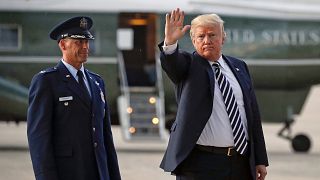 Copyright

Pablo Martinez Monsivais AP

-
Top players inside President Donald Trump's White House routinely went behind his back to thwart him — including a stunning instance in which his top economic adviser snatched a document off his desk to avoid a potentially disastrous decision on trade, according to a new book that reveals life inside the chaotic administration.
The book, "Fear: Trump in the White House," by famed Washington Post journalist Bob Woodward, contains astonishing anecdotes showing how little top aides and lawyers to the president trusted him to do or say the right things, or make the appropriate decisions.
Some of the striking contents of the book were published by The Washington Post on Tuesday, ahead of its Sept. 11, release. They include:
— Gary Cohn, who served as Trump's top economic adviser until March, "stole a letter of Trump's desk" that the president was going to sign that would have withdrawn the U.S. from a trade pact with South Korea. According to Woodward, Cohn told a colleague that Trump never noticed.
— In April 2017, Trump called Defense Secretary Jim Mattis and ordered the assassination of Syrian dictator Bashar al-Assad after the strongman attacked his own people with chemical weapons. "Let's f---ing kill him! Let's go in. Let's kill the f---ing lot of them," Trump said, the book alleges.
Mattis told Trump he would proceed with such a plan, but immediately told an aide, after getting off the phone with the president that, "We're not going to do any of that. We're going to be much more measured." He, along with Trump's national security team, then put together plans for the retaliatory airstrike that the administration eventually carried out.
— John Dowd, who served as Trump's personal lawyer for matters related to special counsel Robert Mueller's investigation until March, when he resigned, was so concerned that Trump would perjure himself if he submitted to an interview with Mueller's team that he put together a mock question-and-answer sessions with Trump to prove his case.
The session happened in January, according to Woodward, and during it Trump contradicted himself repeatedly and eventually got angry. "This thing's a goddamn hoax," Trump said, according to Woodward, adding that, "I don't really want to testify."
— In the book, Woodward confirms NBC News reporting from April that Chief of Staff John Kelly had called Trump an "idiot" and thought of himself as someone who was personally helping to save the U.S. from disaster. Woodward also confirms NBC News reporting from April that Trump routinely mocked and impersonated H.R. McMaster, wholeft the White House that month.