Germany suspends two police officers over Nazi salute
Comments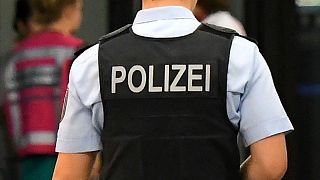 Two police officers in Germany's southern state of Bavaria have been suspended over allegations that they performed the illegal Nazi salute.
In a statement over the weekend, police said the two officers and a third man, believed to be a security guard, were accused of shouting anti-immigrant remarks and performing the salute at a pub in the city of Rosenheim last week.
The allegations were made by a witness who was in the same beer garden as the officers, the statement said.
Under German law, it is illegal to make the Nazi salute or display Nazi emblems.
The case comes amid rising tensions in Germany over migration and the far-right.
The fatal stabbing of a man in the city of Chemnitz, for which two migrants were identified as the main suspects, has led to mass anti-migrant protests.
Leftist groups organised a concert in the city on Monday to denounce hatred against refugees and foreigners.