Mom, boyfriend held after missing 3-year-old found dead in Nevada
Comments
By Phil Helsel with NBC News U.S. News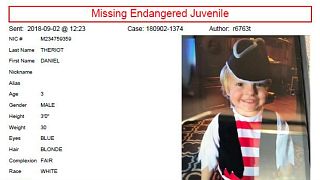 A mother and her boyfriend are being held on suspicion of murder in Las Vegas after searchers looking for the woman's supposedly missing 3-year-old child found the toddler's body near Lake Mead on Monday, police said.
The 20-year-old mother and her 40-year-old boyfriend have not yet been charged in the death of the 3-year-old, but Las Vegas Metropolitan Police homicide Lt. Ray Spencer said that they are suspects.
The child's body was found Monday morning, a day after the mother called 911 at around 9 a.m. (12 p.m. ET) Sunday and reported that she was at a park with the child and that the toddler wandered away while she took a phone call.
A search was launched, but investigators began to have doubts about the woman's story — including that the purpose of the trip was ostensibly to feed ducks, and there is a different, closer park within walking distance from the family home, Spencer said, and no one there remembered seeing the child there, and several said they were not aware that a child was missing until they saw a police searching in a helicopter.
"If your child is missing, and your 3-year-old comes up missing near a lake, and you're trying to locate your child — there's going to be people at that park who are going to see you trying to locate the child," Spencer said. "And we could not find anybody."
The identities of the woman and her boyfriend were not released. Spencer said they will initially be booked on charges of child abuse for a 2-year-old who has been taken into protective custody, but the homicide investigation is continuing and both will likely face charges.
He did not say how investigators believe the child was killed, but said "I will tell you it was absolutely disturbing, on how the child we believe was killed."
"There is nothing accidental about this investigation, as far as the death of this child," Spencer said. An autopsy is scheduled that will provide more details on the cause of death, he said.
"We believe the murder actually occurred within the previous 12 hours from the original 911 call," he said. It does not appear that local child protective services had any past contact with the family, Spencer said, but investigators are looking at other jurisdictions.
The search for the missing child included volunteers from Red Rock Search & Rescue, a helicopter, several law enforcement agencies and an FBI joint child abduction rapid response team, Spencer said.
The death of the 3-year-old near Lake Mead comes a little less than two weeks the body of another child of the same age was found dead in a duffel bag in Las Vegas. The mother of that child, Yvonne Thomas, 29, is accused of killing the little girl and is in custody, the Associated Press reported.
Spencer referenced that case in Monday's press conference, saying," it's deeply disturbing that I'm here talking to you, very similar details, a week and a half after the last child that was a victim of being murdered inside a house with the people who are supposed to care for them."
"Having children is stressful. Having toddlers are stressful. Having a baby is stressful," Spencer said. "If you find yourself in a situation where you cannot care for your child, you can take your child to a fire station, you can take your child to a hospital."
"But this is absolutely — I mean, it's hard to deal with," Spencer said.